Discover more from Braving Freedom
Be braver, Do not comply. Know your rights, Protect your freedom.
Over 8,000 subscribers
One Last Reminder: GO VOTE!🇺🇸
Here's your last reminder of the year: GO VOTE!🇺🇸
Still need some help? Here are some of our favorite resources: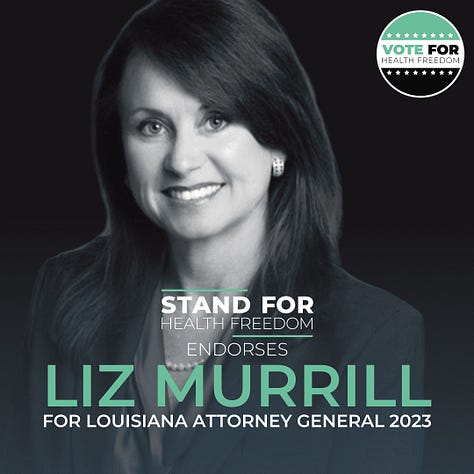 If you don't see your candidate or local race in our voter guide, check out these resources:
For a breakdown of the Constitutional Amendments on the ballot:
Find voting location information and a sample ballot from the Secretary of State's website or on the Geaux Vote App.
Now, GO VOTE today, Saturday, November 18th! 🇺🇸
---
Don't leave your family and friends without the information needed to fight for their health freedom! Click the button below and share Braving Freedom! 🇺🇸
Braving Freedom is a reader-supported publication. To receive new posts and support my work, consider becoming a paid subscriber.
---
But wait, there's more!
For a donation of $25.00, your name goes into a drawing for TWO fabulous autographed books: Lies My Government Told Me by Dr. Robert Malone (also authographed by Dr. Jill Malone) and I'm Unvaccinated and That's OK! by Dr. Shannon Kroner.
Help us continue to help you! We are 100% volunteer, we do not get paid, but we volunteer our time and energy because we know it's critical to maintaining our liberties. We can't do it without your financial support!
Every $25 gets you one entry into the drawing, multiple entries allowed! (So a $100 donation would get you 4 entries.)
Thank you for your continued support!